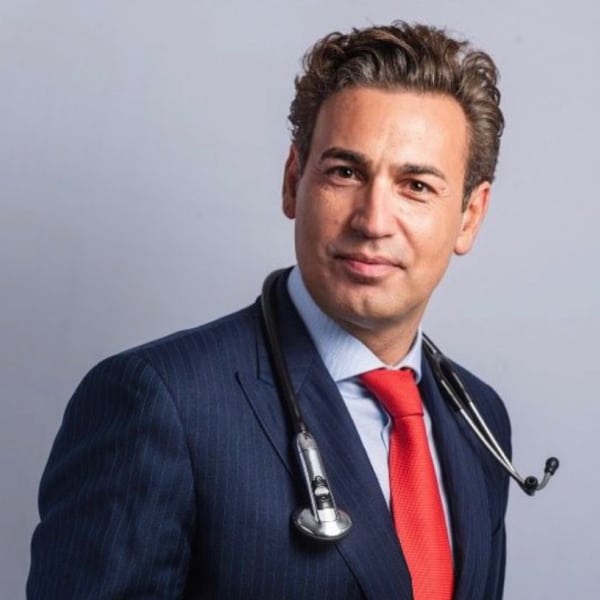 Profile details
---
Speciality:
Cardiology Specialist
Languages:
English, Italian
Dr Francesco Lo Monaco
Cardiologist
Dr Francesco Lo Monaco is a cardiologist currently based in West Middlesex Hospital. He graduated with honours from the University of Pavia (Italy) in 1997 and undertook specialist cardiology training in 2003. Until 2006, Dr Lo Monaco worked as a cardiologist at San Donato Hospital before moving to the USA to take up a Postdoctoral Fellowship in Cardiology (2006-2009) in New York. In New York, Dr Lo Monaco received an American Degree in Medicine and completed his US medical exams (USMLE).

Since 2009, Dr Lo Monaco has worked as a Cardiologist at West Middlesex Hospital, London, where he balances clinical duties and teaching medical students and junior doctors at Imperial College, London. He also leads preparatory courses for doctors who are sitting the MRCP. In 2012, he founded Cosme Medical Limited, where he teaches medicine to doctors who want to pass the US, Canadian and Australian medical board tests.

In 2013, he was appointed Honorary Senior Clinical Lecturer and Undergraduate Tutor at Imperial College London, School of Medicine. Dr Lo Monaco is also the founder of The London International Polyclinic, a unique practice designed to address the needs of the diverse and cosmopolitan community in London.
Procedures
Echocardiogram
ECG Monitor
24 Hour Blood Pressure Monitor
CT Coronary Angiogram
Calcium Coronary Score
Coronary Angiography
ECG (Electrocardiogram)