Extracorporeal shockwave treatment (ESWT) — this is, application of a strong pressure wave through the skin — was introduced ~40 years ago to break down kidney stones (lithotripsy).

More recently this technology has been applied to various fields of medicine, including urology and andrology, for regenerative purposes. Low-intensity shock waves can increase the vascularization of the treated area, consequently promoting its regeneration. The mechanism of this effect is only partially understood.
The main fields of use in uro-andrology are erectile dysfunction, induratio penis Plastica (IPP, also called Peyronie's disease) and chronic prostatitis (also called chronic pelvic pain syndrome - CPPS).
Shock waves have two main characteristics: they can propagate in a liquid medium (1500m/sec in water) gaseous medium (in the air) or a solid medium (such as the tissues of the human body) to carry energy.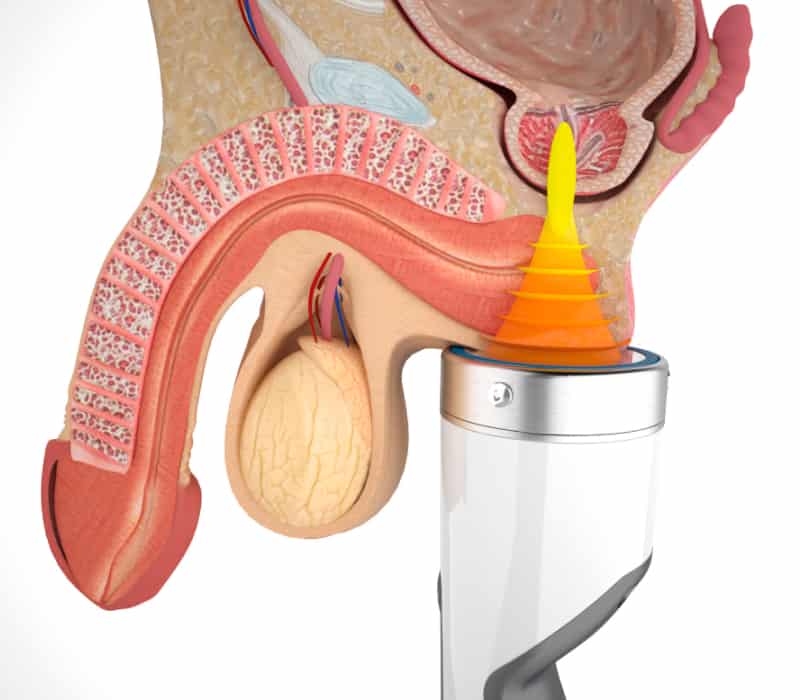 The waves are produced by a handpiece that is placed on the body and can be transmitted to a well-localized point or region of the body. The wave's energy is discharged only in the targeted area without involving nearby tissues. The biological mechanism of action is not yet well understood, but it is thought that the affected cells are first compressed by the positive pressure derived from the energy carried by the shock wave, followed by cellular expansion due to the intrinsic properties of tension, almost like a balloon. This process is called 'cavitation'. These changes induce stress and an opening of the cell membrane with the release of angiogenic factors, which can help to generate new blood vessels.
Current use of shockwaves in urology
Shockwave for ED- erectile dysfunction
Erectile dysfunction (ED) is a sexual disorder frequently appearing with advancing age. Men who have it have trouble getting or keeping an erection, even when they are sexually aroused.
In most cases, the causes are organic, in particular vascular problems. In ED therapy, the penis and the area around the perineum are treated with low-intensity shock waves.
Shockwave for IPP-Induratio Penis Plastica
IPP, also known as Peyronie's disease or "acquired penile curvature," generally refers to a progressive disease affecting the penis. IPP is often found when fibrosis called "plaques" is felt.
During the course, aches and curvature of the erect penis develop, making it more difficult or even impossible to have sexual intercourse. In the case of overt PPI, the painful points on the penis are treated with extracorporeal shock waves.
Shockwave for CPPS-chronic pelvic pain syndrome
Chronic pelvic pain syndrome (from the English "chronic pelvic pain syndrome" CPPS) is characterised by pain in the pelvic area. Urination disorders represent another symptom without a urinary tract infection being found.
Furthermore, some patients suffer from sexual dysfunction disorders. For CPPS, shock waves are put on the perineal area, and the treatment focuses on the pelvic diaphragm and the prostate
muscles.